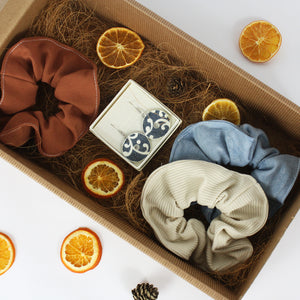 This year I decided to surprise you with ready-made, unique gift packages for you or your loved ones. They contain products from members of the Ana & Gaja Art Gallery, of which Fi by Gaja is also a part.
The package Just for you includes:
- unique ceramic earings which are made in collaboration between Fi by Gaja and ceramic artist Ana Hanzel and
- 3 scrunchies made from textile remnants by Karmina.
The earing are very lightweight because they are extra thin. The pattern is on both sides.